Back in 1954,
Bang and Olufsen BM3 ribbon mics
were installed in the United Nations building in New York . The mics were chosen for their lack of feedback, and are clearly visible in
these video clips of Lester Pearson speaking
about the
Suez crisis.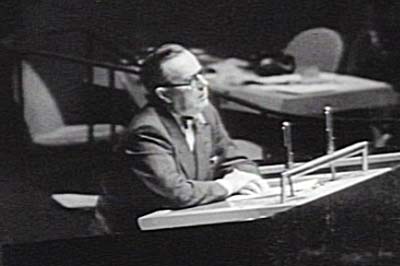 Lester Pearson speaks into two B&O mics at the UN
Pearson later won the Nobel Peace prize for his work, and became president of Canada. Perhaps those little Danish microphones played a small par
t!
B&O were justifiably proud of their mics being chosen for the UN - here is a document from the time...
And a translation from the Danish….
"As we previously mentioned to you, we have received a message from our US representative, Fenton in NY, that the UN uses our BM3 microphones throughout the UN building in NY. They chose the B&O mic and an American mic because only they, out of several hundred different manufacturer products that were tested, did not give rise to any acoustic feedback in the several hundred loudspeakers that are mounted in the ceiling of the UN general assembly building. Our mic also had an advantage over the US product as it didn't hide the speaker's face, which is important with regards to film and TV reporting. The microphones have been in use in the UN since 1st October this year. The newspaper INFORMATION recently had an article with a picture that depicted the Canadian foreign minister , Lester B. Pearson , at the podium in front of B&O microphones when he presented his suggestion for involvement in Egypt. Via our advertising bureau we managed to send out a press release under the title "Danish microphones at the UN podium", and a whole selection of magazines included the picture and advertisement. We have attached the picture for your information - Next time you see the program AKTUELT in TV with recordings from the UN building, take note of our microphones, they are clearly visible.
"Our American representative has also undertaken an investigation that shows B&O micophones are used at, amongst others:
[Mercury, ABC and Decca]
"We have large orders from Fenton conmpany for microphones and pick-up units, and the advertising that Fenton performs in the American technical journals has the effect that we receive requests from other countries. This has resulted in that we have recently sent 10 samples to Australia and samples to Hong Kong, and other countries are also showing interest.
"Likewise we have significant orders for AC motors from Norway, where we compete with German and English manufacturers, and samples of this product has been sent to other countries.
30th Nov. 1956